Fantastic Fungi screening June 21st
---
Denne begivenhed er allerede afholdt.
NEW EVENT! Our grand original plans for the "Fantastic Fungi Day" on March 26 were unfortunately cancelled due to corona lockdown, and all tickets were refunded. But as the infection rates are lowering and restrictions are easing, we are picking up the ball again. This time just screening in Grand Theater, with a chance to meet & great other mycological enthusiasts, as well as a possibility to ask questions to a panel of experts.
Fantastic Fungi
is a 2019 documentary film directed by Louie Schwartzberg. It is praised as a cinematically beautiful and even hope-inspiring journey about the magical, mysterious and medicinal world of fungi and their power to heal, sustain and contribute to the regeneration of life on Earth that began 3.5 billion years ago. The film combines time-lapse cinematography, CGI, and interviews in an overview of the biology, environmental roles, and various uses of fungi.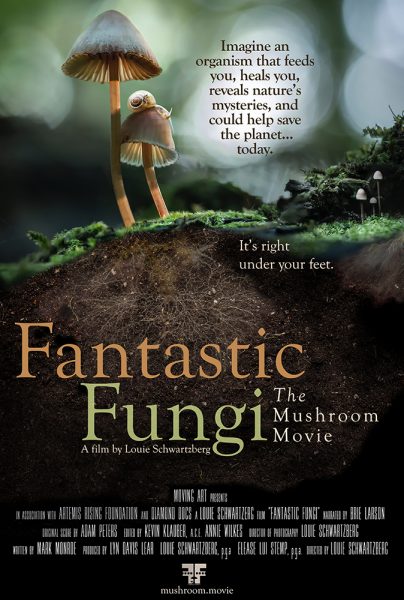 Click for official film trailer
Part of the healing potential of mushrooms does include its potential in psychedelic therapy, which is also discussed in the film with luminaries such as Michael Pollan.
The movie will be screened at Grand Teatret in Copenhagen. The doors open at 20:30, and the screening starts at 21:00. Talks follow after the movie's end at around 22:30.
After-movie talks: Microdosing and psilocybin therapy
We have invited two people to talk about their personal experiences of engaging with certain fantastic fungi in each their way.
Asger "Microdoser" Laursen has researched the practice of taking sub-perceptible quantities of psychedelics – that is, below the point where you feel any discernable effects – for a subtle but significant increase in mood, creativity, flow-state and so forth – known as microdosing. During the spring he explored a 30-day microdosing regimen with psilocybin, documenting his experiences and reflections, during a month that took an unexpected turn from performance-enhancement to self development. See the videos on his blog: Microdoser.dk.
After the movie screening, with a small break, Asger will describe his motivations, research and insights from this exercise, followed by a Q&A session.
Then, in another perspective, Iris will tell us her story of a long-standing struggle with depression, culminating in carefully researching psilocybin-assisted therapy. With a lot of initial hesitation, she found a provider and committed to a session. The session led to classic "mystical-type experiences", such as feeling connected to the universe or the feeling of unconditional love, that classify significant therapeutical breakthroughs. She is now less troubled by depression and anxiety, and is ready to share her story.
Tickets
Active members of Psykedelisk Samfund can buy tickets at a discount.
Log into Min Konto, and purchase the member ticket here on this page.
If you sign up for a membership of Psykedelisk Samfund, or have signed up January, we offer you the ticket for free as a welcome present.  Please write to us at kontakt@psykedelisksamfund.dk !
Non-members can also buy tickets here for cinema's normal ticket price of 100 DKK, booking fee included. Only few left!
---
Film: Journeys to the Edge of Consciousness

»